Toyota, Lexus to Slow Production of Many Cars
1 min read
[ad_1]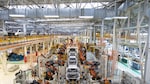 The microchip shortage isn't over. The global COVID-19 pandemic isn't over. Americans have resumed buying cars, and prices have begun to retreat from historic highs. But, just in time to remind us all that the crises of the past year haven't passed, one of the world's largest automakers has announced plans to slow production of nearly every car it builds.
Toyota will take an "intentional pause" between April and June, the company says, slowing production on 18 assembly lines. The move will reduce the supply of available Toyota Corollas, Camrys, and C-HRs, as well as the Lexus IS, RC, NX, UX, EX, and RX.
The move, Toyota says, comes in response to parts shortages "resulting from the spread of COVID-19" in Asia. Several countries have enacted new travel restrictions triggered by a surge of infections in recent weeks.
The plan means Toyota will produce 150,000 fewer cars globally this year. It isn't clear how many of those were bound for American markets.
Though supply problems have forced Toyota to slow production, the company says it will use the downtime to "establish healthy workplace environments that place the highest priority on safety and quality, rather than exceeding the capacities of facilities, pushing people to their limits, and making do through overtime work."
[ad_2]

Source link